The Wahaj of the Republic Cultural Forum held today in the city of Ma'rib a cultural symposium to document the literature of resistance and support the army, in conjunction with the fifth anniversary of the martyrdom of the poet Sheikh Nayef collectively.
The head of the General Book Authority, Yahya Al-Thalaya, praised the step taken by the family of the collective martyr and the management of the Wahaj Al-Gomhoria Forum, for transforming the memory of his martyrdom on the seventh of November every year into a national cultural event.
"What the forum does is of great importance in documenting war literature and supporting the army," Al-Thalaya said, stressing the commission's endeavor to print cultural production for this stage, on top of which is the books and collections issued by the forum.

In the cultural symposium of the forum, a critical reading of the "poem of challenge" by the militant poet Mujeeb al-Rahman Ghunaim was presented, through two critical papers presented by: the writer, poet Abdul Razzaq Al-Hattami and writer novelist Abdullah Sharouh, which dealt with the poetry of attribution, mobilization and enthusiasm that characterizes the poem of the poet Ghoneim as part of documentation efforts Stage.
In his welcoming speech, Sheikh Fawaz Al-Jami affirmed the determination of the family of the martyr and his loved ones to move forward on the same path that the martyr had taken in adopting and supporting the poetry and poets of the chain of transmission, as Al-Jamii is one of the pioneers of this authentic art.
The second symposium provided a reading of the poem of eternity in the poetry of the fighter Majali Al-Qubaisi, and before that a reading of the spirit of the poem in the poetry of the martyr Nayef Al-Jami` himself.
It is worth noting that this symposium is the third of its kind organized in cooperation with the family of the martyr Sheikh Nayef Al-Jami` on the anniversary of his death.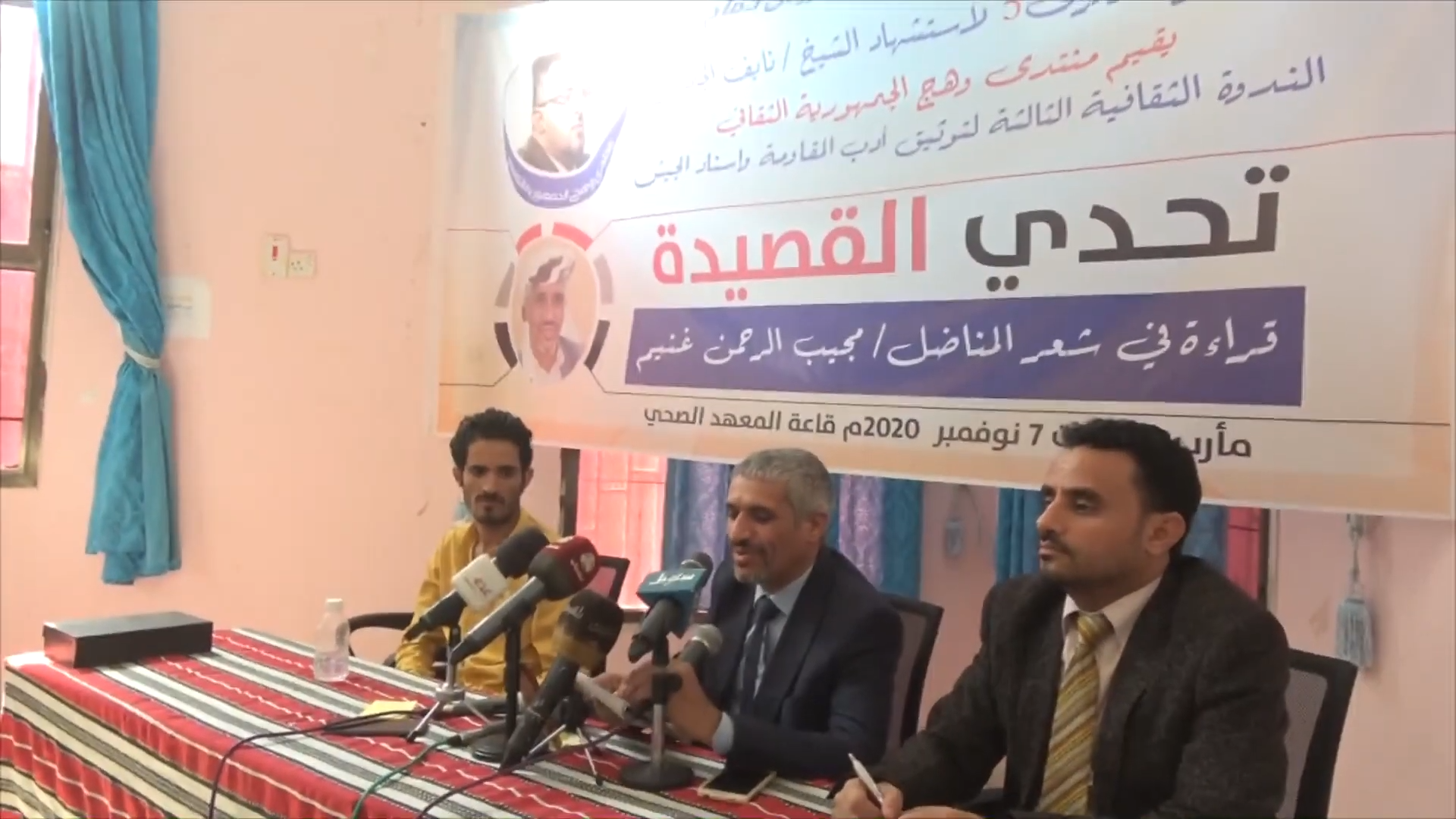 .